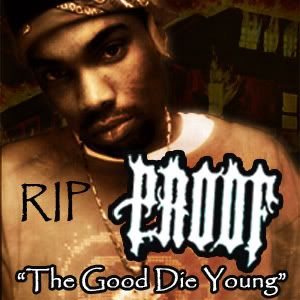 D-12 member Proof was shot and killed in Detroit, Michigan this morning (April 11) at an after hours club on Eight Mile Road.
Proof, born Deshaun Hotlon, was murdered at the Triple C club around 4:30 am and another man was seriously wounded, both with gunshots to the head.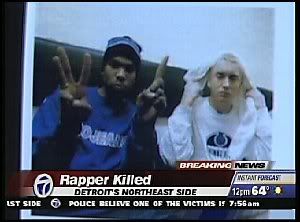 Shit... this guy had a lot of potential...
First J Dilla.. and now Big Proof.. Detroit is loosing great artists this year..
They say the good die young,
Thats why I know that we go' have fun,
In this life cos you only get one
When God calls for me, don't cry till I just went home
Proof - Kurt Kobain
- A Song were Proof writes a suicide letter... at least he said goodbye to his friends
RIP
Just Found this Pictures from "Like Toy Soldiers" video on eminemworld and I couldn't stop thinking how strange it this: proof was also killed in the video...